How to Choose Between an ADN and BSN Program
Nurses are needed now more than ever in the workplace to care and advocate for patients. For individuals who desire a change from their current careers and have a genuine interest in helping others, nursing may be a good choice. You can become a registered nurse (RN) and start making a difference in your community in less than two years, depending on the educational program you choose. 
If you are looking to become a registered nurse, you may be trying to decide between earning an Associate's Degree in Nursing (ADN) and a Bachelor's of Science in Nursing (BSN).
As an RN, you can hold an ADN or BSN and still have the same responsibilities and job title. Although the job description is the same, the pay, job opportunities, and career outlook is substantially different for an ADN vs. BSN prepared nurse.
How to Become an RN
All RNs are required to pass the national board exam called the NCLEX-RN, a standardized examination designed to assess whether a newly graduated RN is qualified to practice in the real-world environment. RNs cannot sit for the NCLEX until they meet the educational requirements, for which either an ADN or BSN would suffice.
Although all the degrees prepare and qualify graduates to sit for the NCLEX-RN to obtain RN licensure, there are a few points that you should consider before deciding which educational path is best for you. The pros and cons of each degree are summarized below.
Associate's Degree in Nursing (ADN)
Some people might be surprised to learn that many registered nurses have a degree equivalent to an associate's degree and never go on to further their education. ADN-prepared nurses have the same clinical and hands-on patient care experiences as nurses with a BSN, but most ADN programs have fewer courses that pertain to leadership, research and community health. 
An ADN can typically be obtained at a community college or an institution of similar standing over a period of two years. One benefit of an ADN is that tuition can be more affordable through a community college compared with a four-year university. However, many hospital systems are moving away from hiring ADN nurses because of better patient outcomes associated with a larger percentage workforce of BSN-prepared nurses.
Bachelor's Degree in Nursing (BSN)
One important reason for pursuing a BSN is that your state may make it become a requirement for you to have one in the future. In the past, the Institute of Medicine has recommended that 80% of the nursing workforce be bachelor's-educated, putting pressure on hospital systems and lawmakers to mandate higher education for nurses.
It is also becoming increasingly common for hospitals to pursue magnet status. To achieve magnet status, a large percentage of the nursing workforce must possess a BSN, which is one of the main reasons why some hospitals hire only BSN nurses.
By recommending a higher level of education for the vast majority of nurses, the level of nursing education is raised. Nurses who wish to advance into higher levels of clinical practice may obtain a master's degree in nursing (MSN) or continue on to become an advanced practice registered nurse (APRN). 
Differences Between ADN and BSN Programs and Outcomes
If you want to become an RN but don't know which educational route to take, start by determining what nursing career goals you would like to pursue. It's important to carefully consider the ADN vs. BSN nursing routes so you will be fully satisfied with the program outcomes and career options. 
ADN vs. BSN Patient Outcomes
Many studies have concluded that BSN-prepared nurses have improved patient outcomes. The National Academy of Medicine recommends that at least 80% of nurses have a BSN, a recommendation stemming from evidence that patient outcomes improve as the percentage of BSN-prepared nurses increases at the bedside. The American Association of Colleges of Nursing has based its recommendation of having baccalaureate-prepared nurses on the results of a study that found an increase in BSN nurses on a hospital unit decreased mortality rates by 11%. 
ADN vs. BSN Salary Differences
Although each state has its own requirement for licensing, all nurses must pass the same national licensure examination to practice as an RN. According to Payscale, the average annual salary of an ADN is $71,000, while that of a BSN is $87,000. Across the career of an RN, that can make a huge difference in lifestyle.
ADN vs. BSN Job Outlook
The number of RN openings is projected to grow by 9% between 2020 and 2030, according to the U.S. Bureau of Labor Statistics. This translates into 194,500 openings annually for RNs over the next 10 years, providing a significant amount of job opportunities. 
There are an incredible number of job openings in the field of nursing, with more predicted to be on the way. Nurses were already in demand due to an aging nurse workforce nearing retirement and the aging baby boomer population requiring more care; the COVID-19 pandemic has only increased the need for more nurses.
With a wide variety of positions available, hospitals are in a position to hire more nurses. BSN-prepared nurses have an inherent advantage for these positions, because they already possess the education level employers desire. Nursing graduates with BSN degrees are often preferred by hiring managers and often have an advantage over ADN graduates when all other factors are equal, such as clinical experience and skill set.
Kickstart Your Second Career in Nursing
Whatever your nursing career goals are, there are several routes you can take to become an RN. Traditional bachelor's programs can take anywhere from two to four years to complete, but there are accelerated programs for those with a bachelor's degree in another field. 
Accelerated BSN (ABSN) programs are a great option for anyone who wants to get into the nursing workforce as fast as possible. Many ABSN programs take as few as 12 months to complete and can get you out into the workforce in less time than an ADN program. The faster you can pass the NCLEX and become an RN, the faster you can start to make a difference caring for patients in the healthcare field. 
Elmhurst University's online ABSN program puts you on the fast track to making a positive impact in your community. The program allows you to complete your coursework entirely online, while providing you the opportunity to practice your skills hands-on through your clinical experiences and two residencies. Throughout the program, you will be guided by student advisors who will walk you through every step.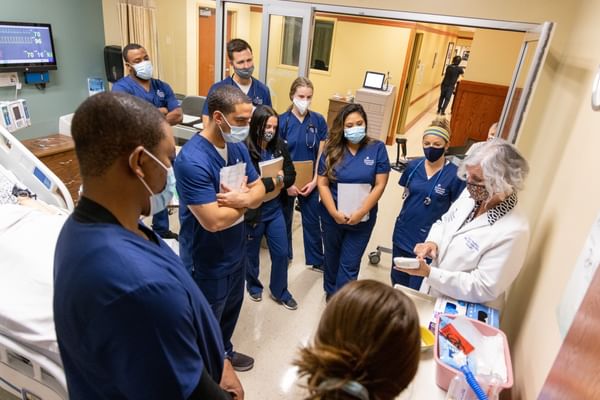 If you are interested in a second career in nursing, check out Elmhurst University's online Accelerated BSN program to get started today.