How to Become a Nurse in Indiana
Indiana is a state filled with rich career opportunities, with a strong focus on innovation. The Hoosier state is known for top sectors such as agriculture, pharmaceuticals, healthcare, medical devices and among all of these industries, nursing is one of the most trusted professions and remains very well respected.
The National Nursing Database currently reports a census of 129,881 nurses in Indiana, with 103,066 registered nurses (RNs) and 26,815 licensed practical nurses (LPNs). There are now 22 community health and hospital systems in Indiana.
Indiana is experiencing a nursing shortage similar to other states due to the pandemic and nurses retiring or leaving the profession. The Bureau of Labor Statistics estimates that there will be a 9% increase in employed nurses in the U.S. between 2020-2030, projecting that there will be approximately 194,500 openings for RNs per year over the next decade nationwide.

Learn More About Elmhurst's Online Accelerated Nursing Programs
With so many career opportunities available, now is a great time to become a nurse. Advanced technology has created innovative solutions for training and educating nurses that make it feasible to study from wherever you live. Days of traveling to college multiple times a week are now less common.
So how do you become a nurse in Indiana? Ultimately you must graduate with a nursing degree, pass the licensing exam, undergo a background check and register with the Indiana State Board of Nursing.
RN Salary in Indiana
So, how much do nurses make in Indiana? The current RN salary in Indiana is approximately $30 per hour or $62,450 per year, slightly above the national average of $24.34 per hour or an annual salary of $50,620. The average salary does also depend on where you work within the state of Indiana.
The Pathway to Becoming a Nurse
There are a variety of different career pathways available for prospective nurses in Indiana. If you are an adult learner or seeking a second career in nursing, it's possible that some previous college credits will transfer, although some prerequisites may have to be repeated depending on the amount of time that has passed.
Fortunately, there are many flexible options for nurse training. With the advent of virtual learning platforms and online learning programs, obtaining a nursing degree has never been more accommodating. Compare alternatives to find the best fit for you!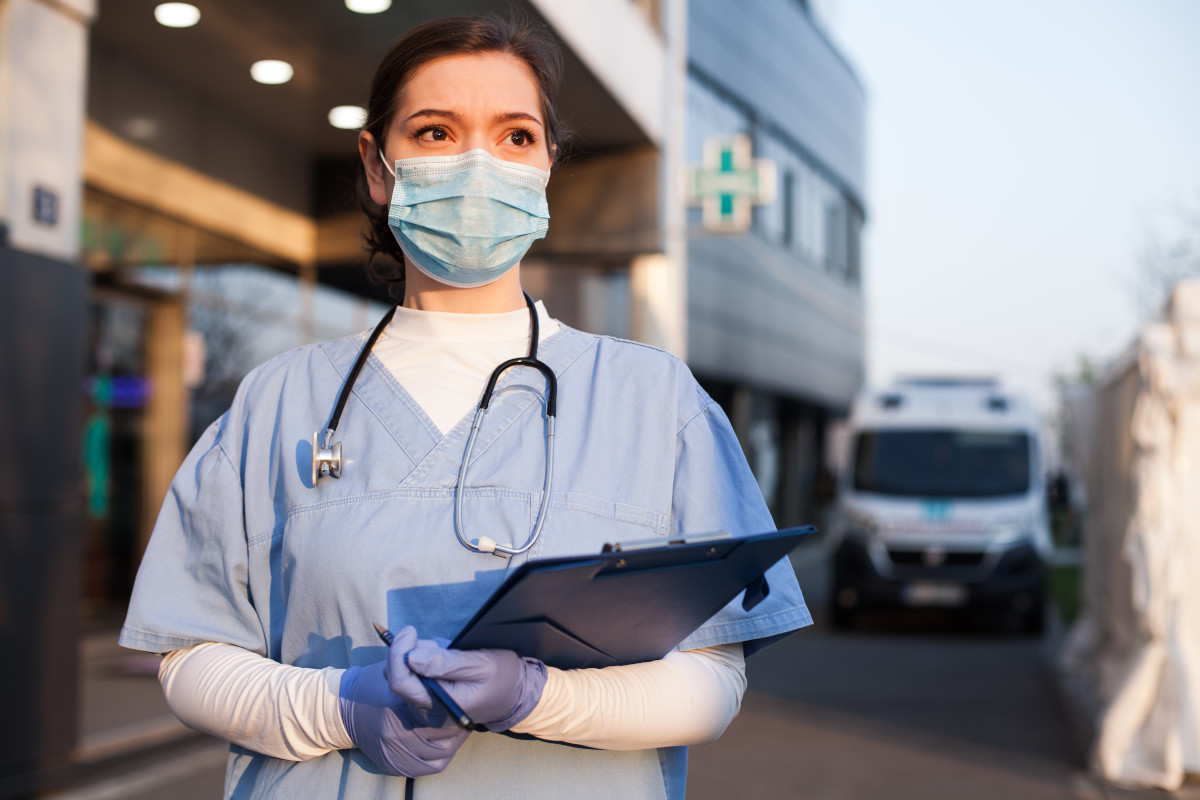 Prepare ahead of time
Applying to nursing school is generally competitive despite the current nursing shortage. If you have the determination and passion for becoming a nurse, you can do it! The earlier you decide to pursue nursing, the better positioned you will be to begin the appropriate core classes in preparation to apply to nursing school. Consider shadowing a nurse for the day or interviewing people you know in the nursing field. Understand that you may need to complete a number of prerequisites to enter a program.
Academic Advisors
Take advantage of enrollment advisors by scheduling an appointment. Most schools provide academic advisors who have successfully assisted thousands of students through the admission process. The sooner you act on this step, the closer you are to completing the application process.
Take a Personal Assessment
Anyone pursuing a nursing degree must consider the required criteria for application. Timing is everything! Take an inventory of your support systems, financial capacity and career goals. 
Determine the degree and track you want
Before taking your first steps towards nursing, it is important to determine exactly what career track you want to follow. Ask yourself questions such as:
Do you want to start on the 16-month accelerated bachelor's in nursing (BSN) program or four-year bachelor's degree BSN path?
Do you want to become a nurse practitioner or earn a doctorate?
What nursing specialty interests you? 
If you are unsure which direction you want to take, this could impact the number of years it will take to finish. However, don't let that discourage you. School-life balance is a challenge today, especially if you are working in addition to going to school.
If you already know what type of nursing degree you want, be realistic about the time it takes to get there. For instance, pursuing a nurse practitioner pathway requires obtaining a BSN and gaining experience as a nurse before pursuing an advanced nursing degree to work as a nurse practitioner.
Currently, there are vocational, private and state universities or colleges available for nursing students. While diploma programs are no longer available in Indiana, a diploma graduate may apply for an Indiana nursing license. 
School Selection and the Application Process
Before applying to a nursing school, it is essential to determine if the school is accredited, which means that the university has met a standard level of quality. Most colleges and universities in Indiana are accredited by the Higher Learning Commission of the North Central Association of Colleges and Schools. 
Online Programs
There are currently several online nursing schools in Indiana. The online program provides nursing students the opportunity to complete coursework on their own schedule and in the comfort of their own home. Online learning can save money for costs such as room and board for out-of-state students. There are usually minimal commitments for arriving on campus in-person. Online programs allow students to consider options outside their home state, allowing for more program options overall.
To obtain a full listing of the online nursing schools in Indiana, refer to the following websites:
Online Accelerated BSN programs (ABSN) 
Elmhurst University's ABSN program is an ideal program for second-degree students. Keep in mind that the program is called "accelerated" for a reason. Accelerated programs are generally 16 months and allow nursing students with a previous bachelor's degree to earn a BSN in less time than a traditional BSN program. As this is an intensive program, do not plan to work if you choose this path.
In the ABSN program, students utilize an online platform for the coursework with direct access to professors and students. It is important to note, however, that you will have to attend in-person for clinical placements to learn hands-on care with patients. Some online programs may also require a couple of onsite commitments for specific instances, such as a residency. 
At Elmhurst University, nurses gain hands-on clinical experience at hospitals in their local area, with the online programs currently supporting students in Illinois, Indiana, Iowa, Kentucky, Minnesota, Missouri and Wisconsin. Elmhurst currently offers the ABSN program for anyone with a bachelor's degree in any discipline considering a second career in nursing, offering students:
A clinical program accredited by the Commission on Collegiate Nursing Education (CCNE) 
Dedicated academic advisors to guide you from application through graduation
Clinical placement coordinators to help fit you with a clinical placement that best suits your needs
Two on-campus residencies for in-person skills education and assessment
Elmhurst offers nursing students a deep look into the vibrant career of nursing by working alongside licensed nurses in their clinical rotations. Learn more about Elmhurst University's Nursing programs by heading over to the nursing hubpage. 
Learn more to see if this program is right for you.
Read other blogs in our nursing series: