6 Things to Know About Online Nursing Programs
If you are considering making a career change to nursing, there are good reasons to look at online nursing education programs. 
Before we dive into the 6 things to know about online nursing programs, remember that as long as you have a computer and a stable internet connection, you can tackle most of your learning from home (or your library or favorite coffeehouse) and you can save money on room, board or gas for a commute when you learn online. 
Here are six things to know about getting an online nursing degree and becoming a registered nurse.
1. Can you get a nursing degree online?
It is possible to get a nursing degree online. People who are thinking about changing careers and moving into nursing need to get a proper education in the field. A great way to do that is to look for a program that takes into account the degree you obtained in another field of study.
Online nursing education programs that offer an Accelerated Bachelor of Science in Nursing (ABSN) do just that. In a full-time program, people who have a bachelor's degree in another field can skip the general education requirements and earn a bachelor's degree in nursing in a fraction of the time (just over a year) it would normally take to get a 4-year bachelor's degree.
2. How do online nursing programs work?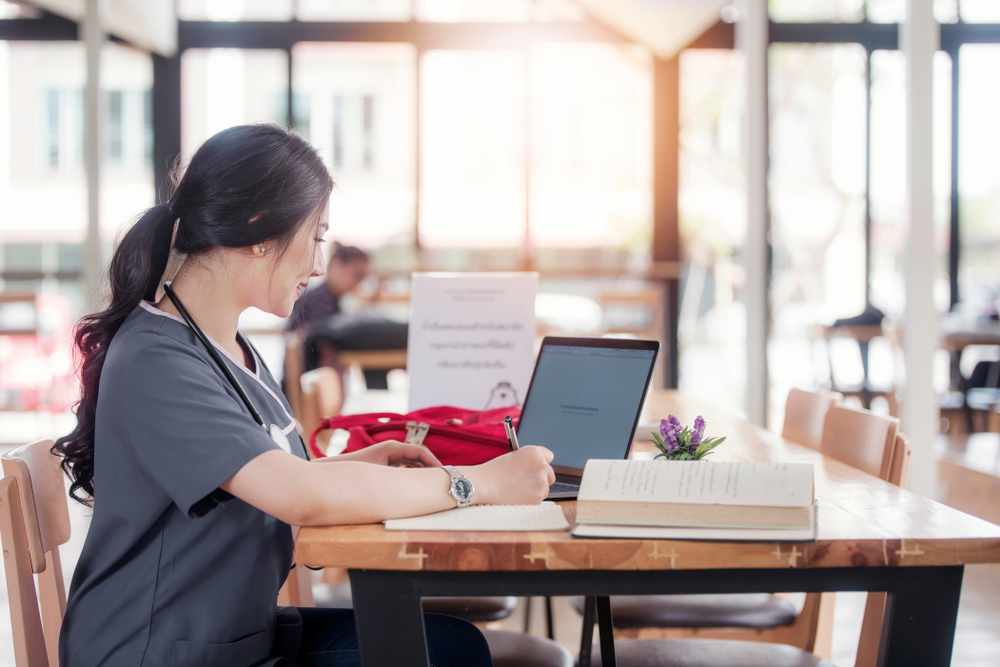 Most of the courses that you will take for an ABSN will be offered online. Lectures will be given online, and you will have an opportunity to work with your fellow students in an online format as well. This allows you to meet and collaborate with students from various parts of the country, widening your network.
Online ABSN programs are designed to challenge students with core curriculum that covers such themes as:
Concepts and theories of nursing
Direct patient care
Communities and vulnerable populations
Health care systems and leadership
This kind of coursework gives nursing students a thorough grounding in the history, principles and ethical practice of nursing, as well as the foundations of patient care. Ultimately, an online nursing education should be as rigorous as any in-person program.
3. Connecting with faculty and advisors
Some people worry that because they aren't physically present, they won't have a chance to have meaningful interactions with professors and other school leaders. High-quality online nursing education avoids that problem by making sure faculty members offer support to students who attend classes online as well as those who attend classes on campus.
Quality online programs also have dedicated advisors who are available to answer questions and make sure you get the support you need to be successful.
4. Getting hands-on nursing experience in clinical rotations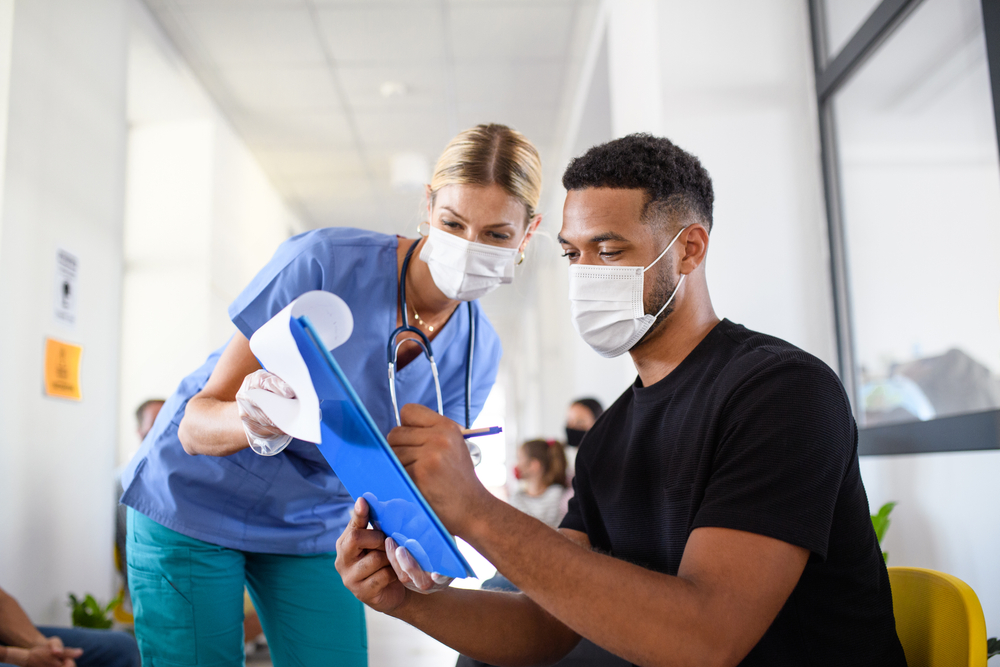 Even though the primary benefit of taking nursing courses online is that you can do most of the work from a distance, there are skills that have to be taught in person. Clinical rotations require you to do hands-on learning in an appropriate setting, such as a hospital or clinic. During this part of the program, students undertake actual patient care under the supervision of a preceptor who is a licensed RN, while also receiving support and guidance from faculty during the course. 
Clinical rotations will provide focused learning in such areas as health assessment, family health, community and public health nursing, and more, coordinated with online coursework.
Getting a clinical placement can be challenging, but your online nursing program should provide critical assistance with this important aspect of your education. A clinical placement coordinator can make a huge difference in establishing your clinicals. They can handle the logistics of finding a placement in your local community so you can concentrate on learning. Not all universities or online programs offer this valuable service, so it is something that you should look for when you evaluate nursing programs.
5. Preparing for the NCLEX exam
As you approach the end of your online nursing education, a quality, accredited program will provide options for preparing you for the NCLEX-RN examination. This exam is a national test given to nursing program graduates so they can qualify for the registered nurse license to practice through their state's board of nursing. Test preparation classes help familiarize students with the types of questions the exam will include and the content students are expected to master. 
6. Is nursing a good career choice?
Absolutely! Professions in health care are always looking for dedicated, talented people. Nurses represent the largest number of health care professionals in the United States, holding 30% of employed hospital positions. 
In addition, the U.S. Bureau of Labor Statistics estimates that the number of nursing positions will increase by 7% by 2029—that rate is much higher than average, when compared with other professions.
Part of the reason that so many nurses will be needed can be explained by the economic principle of supply and demand. On the supply side, many nurses who fall into the baby boomer age cohort are retiring and will continue to leave the profession in the years to come. The American Association of Colleges of Nursing reports that 1 million nurses will retire by 2030. The BLS predicts that each year 175,900 new nursing positions will be available due to vacancies created by retiring nurses. 
On the demand side, the baby boomers, the second largest generational group in the U.S., are in their senior years (ages 51–75) and need more health care services that nurses can provide.
Employers are increasingly looking to hire nurses who have a bachelor's degree in nursing. In addition, they are interested in job candidates who have pursued a second degree, seeing them as more dedicated to the field and possessing valuable professional experience and strong clinical skills.  
Elmhurst University — Online Distance ABSN Program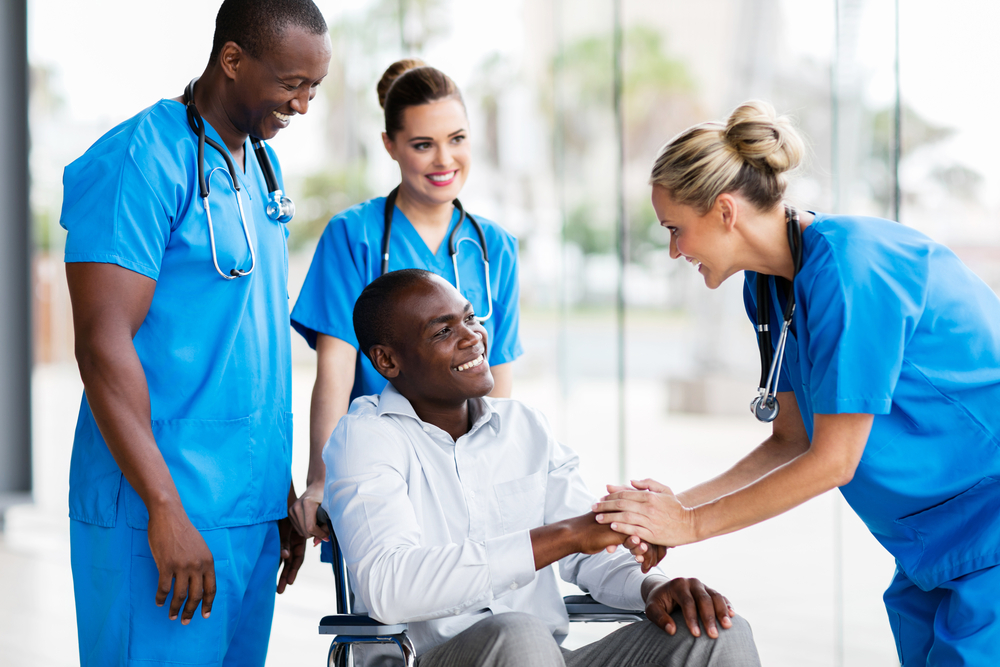 If you are ready to become a bachelor's-educated registered nurse and have previously earned a bachelor's degree in another discipline, consider the Distance Accelerated Bachelor of Science in Nursing (ABSN) program at Elmhurst University.
Elmhurst University's ABSN program offers students:
An academically strong curriculum in a program accredited by the Commission on Collegiate Nursing Education (CCNE)* 
A respected nursing faculty
Dedicated advisors to guide you from application through graduation
Clinical placement coordinators to help you find sites and preceptors in your community for your clinicals
Two on-campus residencies for in-person skills education and assessment
This full-time, online program offers a fast path to your nursing career. In as little as 16 months, you'll be prepared to take the NCLEX-RN exam and start working as a registered nurse. 
About Elmhurst University
Ranked by U.S. News & World Report as a leading Midwest university and recognized by publications such as Forbes Magazine, Elmhurst University was founded in 1871 and is aligned with the United Church of Christ, which has a rich history of supporting civil rights and equality.
As such, Elmhurst University's Department of Nursing and Health Sciences is dedicated to increasing diversity in nursing, a profession that is still largely white and female. No matter your background, age, race, gender or religious affiliation, there's a place for you at Elmhurst. 
Learn more about Elmhurst University's Distance ABSN program.
*The baccalaureate degree program in nursing and the master's degree program in nursing at Elmhurst University is accredited by the Commission on Collegiate Nursing Education, 655 K Street, NW, Suite 750, Washington, DC 20001, 202-887-6791.