The Future of the Nursing Profession in an Aging America
People who study the American health care system have had concerns about the future of the nursing profession for many years. They are particularly concerned with how many nurses are entering—and leaving—the field. This will be a critical area to watch as large numbers of citizens enter their senior years and require more health services. 
For the last 70 years, baby boomers—individuals born between 1946 and 1964—continue to have a large effect on the U.S. economy. With about 73 million members currently, the size of this group have made boomers a market and cultural force. As this age group settles into retirement, its members will have a large impact on health care services and by extension, the nursing workforce that will deliver them. With all this in mind, we've looked at some issues the nursing workforce faces and how it can best respond.
What the Population Data Tells Us
The U.S. population data shows that there is a greater percentage of older Americans than before and that this percentage will continue to increase. The U.S. Census Bureau projects that by 2035, people over 65 will outnumber children under 18 for the first time in the nation's history.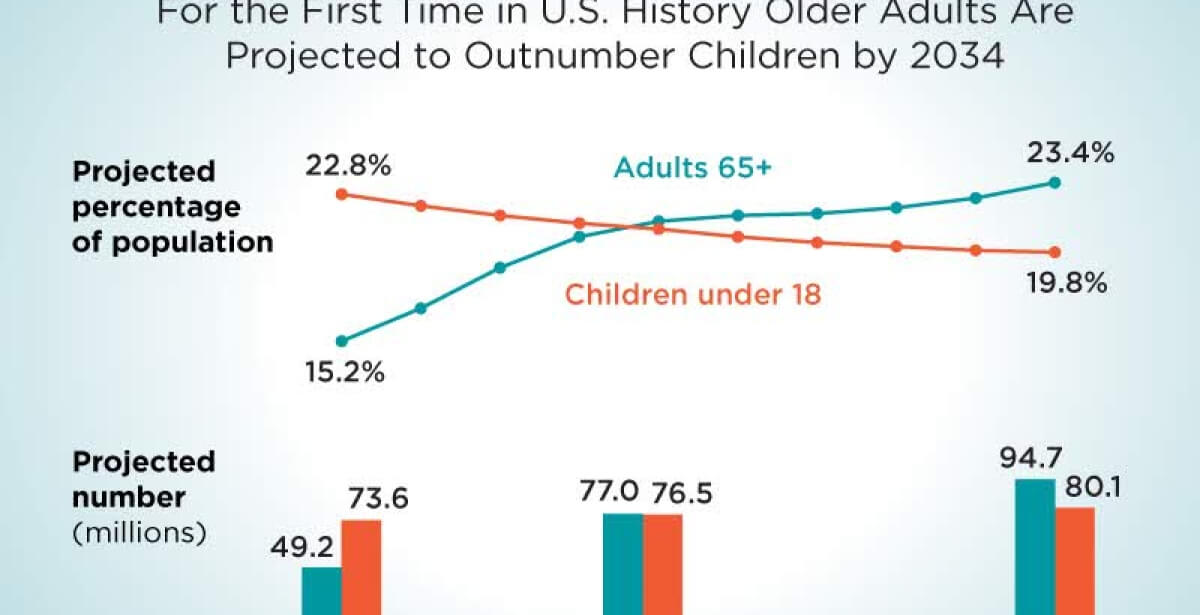 By 2030, all boomers will be 65 years or older. Having a big cohort of long-lived seniors and a lower birth rate, however, means that there will be a smaller proportion of young people to support elders in several ways. There will be fewer working adults paying into Social Security, for instance, and fewer young adults to provide in-home or informal care giving.
Elders without debilitating medical issues may need assistance with two types of supportive needs: "instrumental activities of daily living (IADLs), such as shopping or cleaning, and assistance with physical activities of daily living (ADLs), such as eating, bathing, or moving around." The latter set will require a high level of assistance—in part from RNs (registered nurses)—either through home health care or facility-based care.
The Census Bureau reports that revenue in health services industries (not including hospitals and other medical facilities) used by the baby boomer cohort increased dramatically between 2013 and 2020—just after the first wave of the group's members hit age 65. Revenues increased in such service sectors as assisted living facilities (34.4%), home health care services (50.5%), services for the elderly and persons with disabilities (62.1%) and skilled nursing facilities (17.4%).  
Large numbers of aging Americans will face one or more significant health problems in their elder years. People can avoid some illnesses by making healthy lifestyle choices, but advancing age is itself a risk factor for other illnesses. Scripps Health newsletter published a list of the top 10 health concerns for older Americans:
Type 2 diabetes
Heart disease
Cancer
Alzheimer's disease
Depression
"Sandwich generation" stress
Arthritis and joint replacement
Osteoporosis
Flu and pneumonia
COVID-19
Most of the diseases on this list will require patient hospitalization, which is why having a robust supply of nurses will be so critical to helping older patients get the care they need.
Nurse Retirements and a Projected Shortage
As of 2020, an estimated 660,000 registered nurses were themselves part of the baby boomer generation, with nurses who have already reached age 65 making up 19% of RNs. Unsurprisingly, many of them are set to retire; in fact, many RNs took advantage of retirement packages offered by their employers in the early days of the COVID-19 pandemic. This was due to many hospitals and outpatient centers having closed departments or canceled procedures to limit the potential spread of infection. 
The National Nursing Workforce Study conducted in 2020 reported that "more than one-fifth of all nurse respondents replied positively when asked if they plan to retire in the next 5 years," irrespective of their age. People who have studied the nursing shortage for years are concerned that the numbers of new entrants to the field will not make up the numbers of those leaving the field or retiring.
One estimate, based on a report by McKinsey & Company entitled "Assessing the lingering impact of COVID-19 on the nursing workforce," suggests that 200,000 to 450,000 additional nurses will be needed by 2025 to prevent a serious gap in direct nursing care.
The millennials—the generational group that now surpasses the baby boomers in numbers—have different expectations about their careers, including nursing careers. 
The authors of an article on the topic of millennial nurses in the Journal of Nursing Administration say that this generation of nurses looks for "strong leadership, advancement opportunities, alignment of organizational and personal values, good coworker relationships, healthy work-life balance, recognition, and cutting-edge technology." 
Nurse administrators are becoming more attuned to these kinds of expectations as they strive to retain talented nurses.
How Technology Can Help
One way that new technology can lessen the impact of potential nursing shortages is by providing new nursing modalities. For example, telehealth and telecommuting are two ways that boomer nurses can continue to use their valuable knowledge and skills without having to endure some of the physical stresses that may be pushing them out of the field. The RNs who remain onsite working at the bedside can also benefit from this arrangement when their care is supplemented by offsite nurses who can use telemonitoring to keep an eye on select patients. 
Other technology, such as artificial intelligence (AI), can assist nurses by analyzing large volumes of clinical data. Information that nurses glean from algorithms that can predict fall risk or detect hospital-associated infections can help them implement care or prevention strategies more quickly and improve patient outcomes. 
On another note, nurses are receiving help with repetitive tasks from robots. Robotic devices are being used to carry medical devices, drugs and specimens from one place to another, freeing nurses to concentrate on patient interactions. Hospitals are also using robots equipped with ultraviolet light emitters to disinfect patient rooms and operating rooms in a fraction of the time it would take a human to do the task.  
The Need for More Nurses 
It is very clear that many more nurses are needed in the health care workforce. New entrants to the field are being encouraged to pursue educational programs that culminate in either a bachelor's or master's degree as preparation for the RN role. 
According to the 2020 National Nursing Workforce Study, 42% of RNs reported that they held a Bachelor of Science in Nursing (BSN) degree when they first earned their license. This level of education is becoming increasingly important as nurses are taking on greater responsibility as they care for patients with multiple comorbidities and make key decisions in complex care environments. 
In a seminal report from the Institute of Medicine, "The Future of Nursing: Leading Change, Advancing Health," the authors point out that nurses educated at the bachelor's level will be better equipped to handle challenges in the present and future health care system. 
"Care in this setting depends on sophisticated, life-saving technology coupled with complex information management systems that require skills in analysis and synthesis. Care outside the hospital is becoming more complex as well. Nurses are being called upon to coordinate care among a variety of clinicians and community agencies; to help patients manage chronic illnesses, thereby preventing acute care episodes and disease progression; and to use a variety of technological tools to improve the quality and effectiveness of care. A more educated nursing workforce would be better equipped to meet these demands."
This statement is especially true for elder-oriented areas, such as geriatrics, long-term care and hospice. The U.S. health care system will need knowledgeable and dedicated nurses to work in these areas. People who become registered nurses with either a bachelor's or master's degree will be able to provide much-needed care and position themselves to move into advanced practice roles, such as nurse practitioner. Moreover, two particular nurse practitioner roles will be in high demand in the coming years—Adult-Gerontology Acute Care Nurse Practitioner (AGACNP) and Adult-Gerontology Primary Care Nurse Practitioner (AGPCNP)—as their entire focus is on the care of older patients.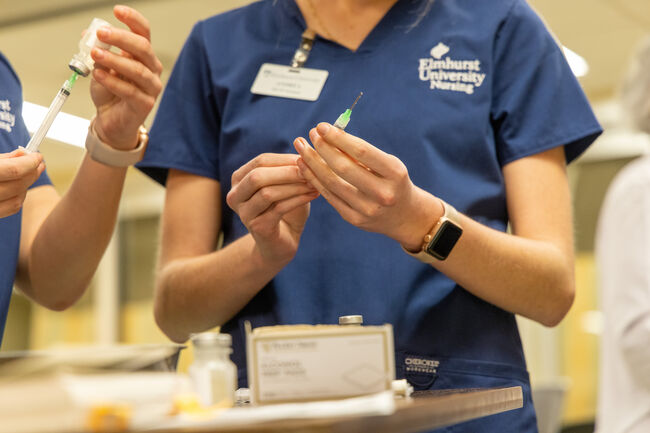 Move into Nursing with a Degree from Elmhurst University Online 
If you are excited about helping to fill the need for more nurses, Elmhurst University offers several online options designed to make a high-quality nursing program available without having to live near a university. 
For those who already have a bachelor's degree in a non-nursing field, an Accelerated Bachelor of Science in Nursing (ABSN) can help you enter the nursing field quickly. Because you have already completed your general education requirements with your first bachelor's degree, your ABSN coursework can focus on nursing science, theory and practice.
Another option is Elmhurst's Master's Entry into Nursing Program (MENP), which grants a Master of Science of Nursing (MSN) degree and prepares you to become a registered nurse with an additional focus on nursing leadership and policy. By beginning a nursing career with an MSN, you can position yourself toward nursing leadership roles.
Classes for each program are delivered entirely online, with one to two short residencies at the Elmhurst campus for skills training. Both programs include assistance coordinating your clinical placements at sites in your area.  
With more nurses needed than ever before, now is a great time to start training for a new career in nursing.
Contact Elmhurst University for more information about how you can become a registered nurse through an ABSN or MENP program.