The Importance of Clinical Experiences for ABSN Students
A vitally important part of learning how to be a nurse is the clinical experience for nursing students. As you begin a new career in nursing, you will benefit from two primary types of learning experiences: the academics, which provides the intellectual foundations of nursing, and the clinicals, which allow you to master and refine the hands-on skills you will need to successfully care for patients.
Think of it as if you were learning to drive a car. You learn the rules of the road, then learn how to maneuver a car. When you can drive the car and follow the rules on your own, you become a successful driver. 
The same principles apply to learning to be a nurse—your success will be measured by how well you synthesize your classroom learning with your clinical experiences. 
What are nursing clinicals?
Nursing clinicals are the part of nursing education during which you apply your nursing skills on real patients in a medical center. Initially, you will work within simulation labs where you will learn the basics—everything from taking heart rate and blood pressure readings to starting intravenous (IV) fluids. After mastering those basics, you will then be interacting with patients in a real care setting, such as a hospital or clinic. 
Your clinical instructors will be working, registered nurses (RNs) who teach you how to perform tasks correctly and prevent errors. They will also evaluate your performance. Students will work alongside other RNs and staff members at the clinical site as they go about their care rounds or respond to emergent situations. Building a good relationship with your clinical instructor and each team member you encounter is important for your learning and ultimate success.
Where do clinicals take place?
You will be assigned to a variety of care settings that provide you with the broadest possible range of learning and care experiences. Care environments can include hospitals, clinics, long-term care facilities and home health care. 
Within a hospital, you will be assigned to a clinical rotation between departments and locations, such as the: 
Emergency room/department (ER)
Intensive care unit (ICU)
Medical-surgical floor ("Med-Surg")
Obstetrics/labor & delivery (OB/L&D) 
Operating room (OR)
Hospital patients most often are being treated for acute or complex illnesses. You will learn how to set priorities and respond quickly to a variety of situations, as well as perform both basic and complex care tasks. You will also learn how to assist patients who may be dealing with pain, fear, sadness or loss.
A clinic offers a slightly different clinical experience for nursing students. In this context, a clinic could include a primary care office, wound care clinic, urgent care clinic or infusion center, among others. 
Clinics provide mostly preventive or specialized care. You will learn how to manage higher patient volumes and relatively quick patient turnover in an environment where there may be only one or two other nurses. A clinic environment can challenge your ability to multitask.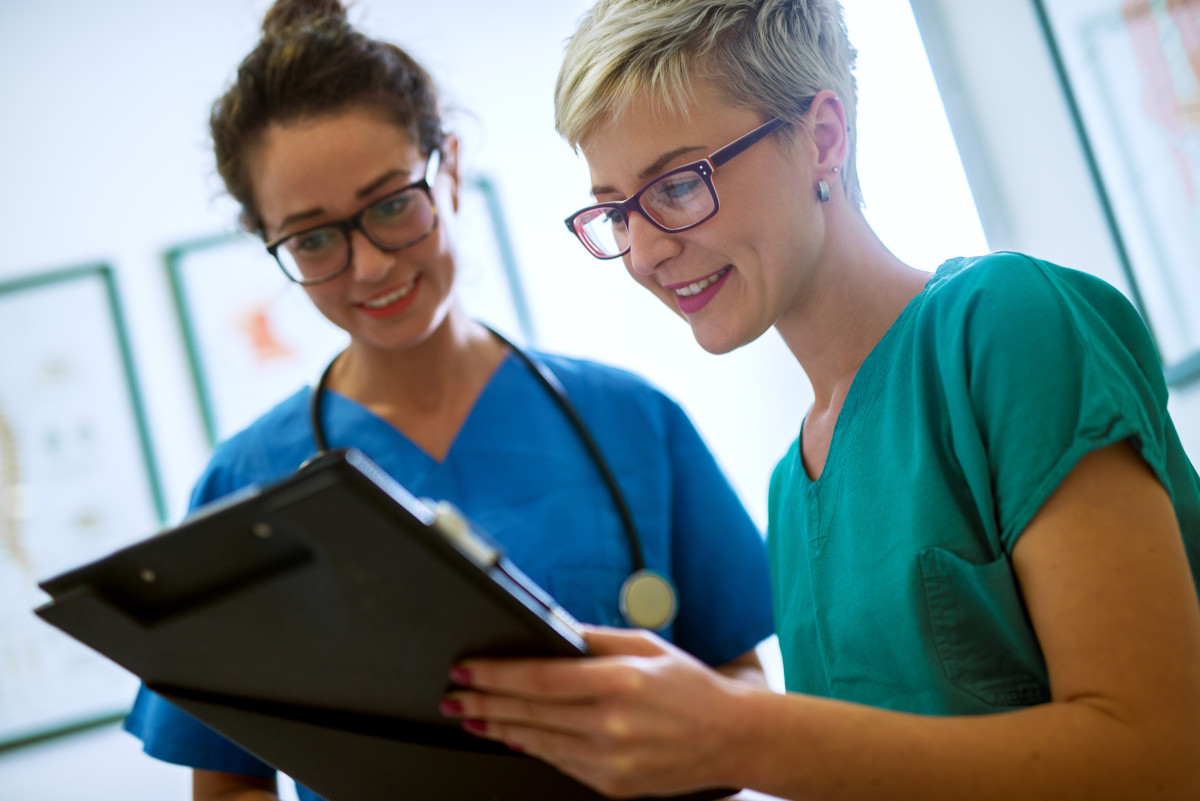 What are clinical rotations?
You will be placed in multiple nursing locations to gain experience in as many nursing fields as possible. The rotation will follow or work in concert with your coursework. For example, when you are learning about pediatric care, you may be assigned to a pediatric ward or clinic during the semester or sometime thereafter. Similarly, if you are learning about palliative care, you may be placed in a nursing home.
The benefit of rotations is that you benefit from applied knowledge in a wide range of patient care management and delivery, while at the same time discovering the areas of nursing that you find most appealing.
What expectations are set for students during clinicals?
The clinical setting can be very demanding, and you will be expected to have the same level of professionalism that any working nurse does. Here is a short list of the skills and performance expectations you must adhere to when you are in a clinical setting:
Prepare for each day the night before. Review the clinical knowledge and skills you will need to work in your assigned department before you show up for work. If you are assigned a specific patient, review their chart and familiarize yourself with the nursing requirements for their condition. You should also set personal goals for each day, such as selecting a pertinent skill to learn.
Be willing to do anything that helps in care delivery. That means everything from changing linens, removing bedpans, finding TV remotes, drafting care plans, double-checking medication orders and clearing trach tubes. Work as a unit with other team members. If you have completed all your tasks, ask other nurses or technicians if there is anything you can help them with. There are learning opportunities everywhere.
Answer call lights. When a patient asks for assistance, be sure to check the patient's chart before doing anything—even something as simple as giving them water or adjusting their bed position—to make sure that you're not violating an existing order, such as an NPO (nothing-by-mouth) or postural restrictions. If you cannot fulfill the patient's request because it's beyond your scope, triage their issue and bring it to the right person. 
Maintain communication with your preceptor. At the end of your day, review your activities with your preceptor, who will sign off on any clinical documents as needed.
Working with a staff nurse 
Depending on your rotation, the nurse who will be providing direct supervision of your activities will likely be a staff RN. This person will have many other responsibilities in addition to teaching you the ropes, so remember to be well prepared for the day's activities.
Expressing interest in performing certain tasks lets the RN know what areas you're particularly interested in and has the advantage of easing their task load a bit. Ask the RN or technician if you can tag along as they administer medication or do a procedure you're unfamiliar with. Showing your eagerness to learn and being helpful will go a long way with colleagues, who may tap you to accompany them when they are doing an interesting task or procedure.
What is the role of the preceptor?
The preceptor is the nurse who will supervise you during your clinical experience. That person may or may not be the one who teaches you directly, but if the latter, they will review your performance with the nurses who did. 
Work with your preceptor to set goals for your clinical experience. You should speak up about what your interests are, and ask questions about procedures and policies you might encounter. In return, your preceptor will provide feedback on your performance on a regular basis.
Ultimately, your preceptor will maintain contact with your faculty advisor to ensure that you are meeting your course objectives.
Clinical Placement Process for Online Learners
You may have heard that with many nursing programs it is your own responsibility to arrange your own clinical experience placements. That is not the case when you choose a nursing school that has a dedicated placement coordinator.
If you have previously earned a bachelor's degree in another discipline, you should consider the Online Accelerated Bachelor of Science in Nursing (ABSN) program at Elmhurst University. The program has a built-in process for identifying and securing clinical sites near your home base and enlisting a preceptor to oversee your work. This means you can concentrate on learning and making the most of your upcoming nursing clinicals, not on the logistics of finding sites and preceptors.
Elmhurst University – Online ABSN Program
This program offers a fast path to your nursing career and provides extensive preparation, gaining clinical experience and essential healthcare knowledge at a school that values personal growth, diversity, human rights and social justice. The program at Elmhurst emphasizes hands-on experience and exceptional clinical skills, while also prioritizing personal growth and development. 
In as little as 16 months, you'll be fully prepared to take the NCLEX-RN exam and start working as a registered nurse. 
If you're ready to embark on nursing as a second career, we're ready to help. Learn more about Elmhurst's Accelerated BSN program here and book a consultation with one of our enrollment advisors.