The Nurse's Role in Patient-Centered Care
Patient-centered care in nursing creates an experience in which patients feel involved, respected and empowered in their health care. The philosophy of patient-centered care respects the unique spiritual beliefs, personal values and cultural traditions of patients and their families. 
In patient-centered care, health care professionals advise, educate and support patients as they make decisions about their individualized health and treatment plans. This helps nurses earn the respect and trust of patients, allowing for improved patient outcomes.
Health care teams that embrace patient-centered care focus on these important considerations that take into account the well-being of the entire patient rather than focusing on a treatment for physical illness: 
Culture
Care
Communication
Collaboration
By 2030, 1 million registered nurses are projected to retire. Ninety-four percent of U.S. counties are currently experiencing a partial or complete health care professional shortage. The need for nurses has never been greater, especially those who are educated in patient-centered care. 
Holistic Approach to Patient-Centered Care
The holistic approach to patient-centered care addresses the patient's need for physical comfort and emotional well-being. 
It's essential for health care professionals to assess each patient's unique circumstances. A holistic mindset ensures quality of care by respecting each patient's preferences, cultural traditions, values and socioeconomic background. Trust between health professionals and patients is crucial, allowing caregivers to address health issues effectively and provide proper treatment. 
Using a holistic approach, care teams treat the whole patient by developing individualized care plans and ensuring that mental health and social needs are met in addition to traditional medicine.
5 Examples of Patient-Centered Care in Nursing
Health care programs that focus on patients provide care that is respectful of and responsive to individual preferences, personal needs and values. The goal of patient-centered care is to maximize comfort, safety, value and support. Nursing practices include listening to patients and involving them and their families in all aspects of care and clinical decisions. 
Patient-centered care is comprised of customized care, patient-centered care in the hospital, cultural competency, patient-centered primary care and patient knowledge and education. 
1. Customized Care
Health care providers customize patient-based care according to individual medical needs, the patient's internal values and informed choices. Creating a soothing and comfortable environment allows patients to heal with dignity and respect. 
Many health care facilities have introduced healing gardens, meditation rooms, music and art therapy, natural light sources, pet therapy, reiki and other supportive programs that create soothing environments for patients and their families. Health care professionals should consider religious beliefs when developing care plans; they should also provide pastoral services. In a study conducted at hospitals in West Virginia and Maryland, 52% of patients identified healing space by the feelings the space evoked; a sense of being cared for, a sense of home and feelings of comfort and calm. These spaces included positive attributes and features of physical spaces, including low levels of noise, access to indoor and natural light, comfortable furniture, cleanliness, privacy and space for family and visitors. 
The level of comfort patients experience is directly related to satisfactory pain management and higher levels of progress. In a study of 72 medical-surgical patients in an urban hospital, more than 70% of patients reported that they were very satisfied (20%) or satisfied (51%) with their pain relief regardless of a pain score of 7 or greater. Four themes that affected patient satisfaction included: patient pain experience, patient views of providers, patient pain management experiences and pain management outcomes.
2. Patient-Centered Care in the Hospital
Health care professionals encourage the presence of family members in the hospital setting using the patient-centered care module. Family and friend visitation can occur at any time. Patients have the authority to decide who can visit and when. During rounds, family members may also be present to participate in discussions and care decisions.
Hospitals are redesigning maternity units with family-friendly laboring and postpartum rooms to accommodate the mother, new baby, and their support person. Patients and their partners can communicate their birth plans with staff and are actively involved in decision-making, especially when situations arise, like an unplanned cesarean section. Partners or support people can stay throughout the postpartum recovery period to foster family bonding and support the mother. 
When patients have a say in decisions about their health care and understand their treatment plans, health outcomes and patient experience improve. Continuous support during labor and delivery from both partners and providers is associated with shorter duration of labor, better coping with pain, decreased incidence of cesarean section, increased incidence of spontaneous vaginal delivery, increased rates of breastfeeding, and increased maternal satisfaction including lessened anxiety. 
3. Cultural Competency
Cultural competency recognizes patients' unique cultural backgrounds and belief systems. Considering patients' traditions, values and socioeconomic circumstances while respecting them and responding with sensitivity is a foundation in patient-centered care. 
Health care professionals must show respect for patient beliefs surrounding death, pregnancy, birth, religion and diet preferences. 
A patient may wish to stop treatment for cancer and leave the hospital to spend time with family in the comfort of their home. The patient-centered care team will respect their wishes and provide education regarding options and pain management. Nurses may arrange for hospice care and social services and ensure that the patient and family are comfortable. 
4. Patient-Centered Primary Care
Patient-focused care models facilitate trusted relationships between primary care providers and patients. Eye contact, empathy, dialogue and genuine concern about a patient's physical and emotional well-being nurture important connections between the provider and patient. 
For example, a patient complains of daily migraines. The primary care provider notices that the patient is thirty minutes late and appears distressed, they engage the patient in conversation about migraine and stress. The patient states that they recently lost their job and have been struggling financially, not to mention having no help with childcare. Their symptoms began shortly after being laid off. 
To practice patient-centered care, the provider takes the patient's vital signs and performs an assessment; the patient appears in good health. The provider then offers support, discusses stress-relieving activities, and recommends a community center that provides employment counseling, yoga, and child care during classes. Lastly, the provider schedules a nurse call to check in with the patient to see if migraine symptoms are alleviated and a follow-up visit to discuss stress levels and a further treatment plan.
Without the trust built between them, the patient may not have opened up to the provider, and care delivery may have been impeded. Patient-centered care fosters meaningful relationships between patients and health care providers to meet the patient's mental and physical needs.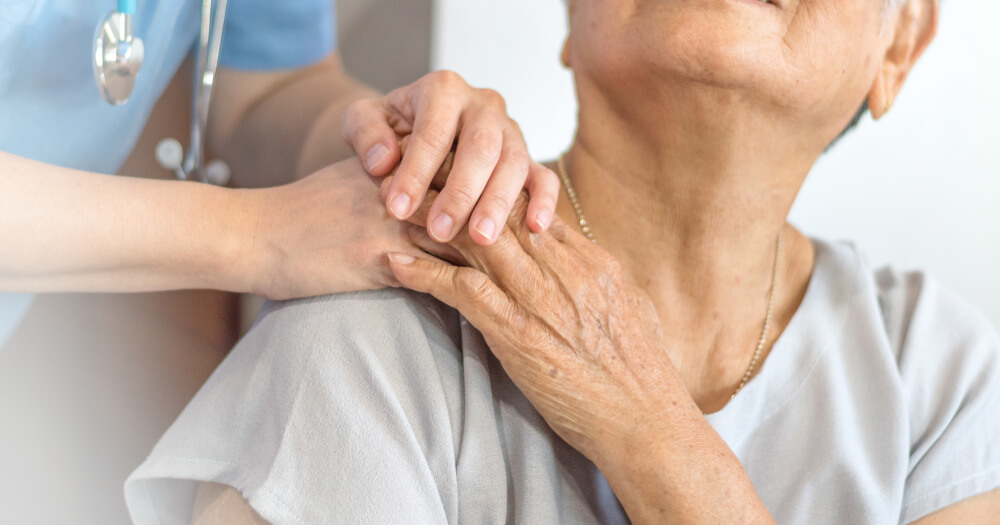 5. Patient Knowledge and Education
Patient safety is the most critical component of quality care and must be considered in all decisions regarding treatment and care. Nurses can assist patients in understanding their conditions by tailoring education based on the patient's comprehension and preferred learning methods. 
For instance, when a recently diagnosed diabetic patient requires a blood sugar check and insulin administration, the nurse suggests that the patient bring a support person so that education can be provided to both of them. After performing diabetic education, the nurse asks the patient to repeat the information and explain it in their own words to ensure the patient understands. The nurse encourages the patient and support person to ask any questions they may have; in addition, they provide written education to the patient and schedule an appointment with a diabetic educator to reinforce what was taught and ensure the patient gets the care they need. 
Health care providers cannot assume that a patient understands their condition or how to manage it; therefore, providing several different learning methods and involving the family is important.
Collaborative care helps patients understand their condition, lowers anxiety, and allows them to make informed decisions. 
Advance Your Career and Learn the Fundamentals of Patient-Centered Care
We designed our programs using the philosophy of patient-centered care and evidence-based practice. If you are ready to take the next step and become a nurse, check out Elmhurst University's distance Accelerated Bachelor of Science in Nursing (ABSN) program. You can be on the fast track to a rewarding career as a nurse in as little as 16 months.
If you wish to earn a master's degree, Elmhurst University's online Master's Entry in Nursing Practice (MENP) program is the first of its kind to be offered online. Specifically designed for students with bachelor's degrees in other fields who want to enter the profession of nursing, students will earn a Master of Science in Nursing (MSN) degree while preparing for the registered nurse licensure exam (NCLEX-RN) and clinical nurse leader (CNL) certification.
Visit our program page to review admission requirements and program options.