5 Benefits of Enrolling in a Direct Entry MSN Program
To say that nursing is a rewarding career is an understatement. Famous physician Dr. William Osler summed it up well when he said that "the trained nurse has become one of the great blessings of humanity, taking a place beside the physician and the priest."
If you want to make a career shift, you might be asking yourself, "What can you do with a master's in nursing?" Well, you're not alone. Many people have chosen to pursue a second career in nursing and are wondering what educational path to take. 
If you already have a bachelor's degree in another field, direct-entry nursing programs make the transition to nursing simple. People who are looking to enter the profession of nursing—especially those who want to pursue a leadership role in the field or go on to become an advanced practice nurse (APRN)—can elect to enter a direct-entry Master of Science in Nursing (MSN) program for non-nurses to become a registered nurse in an accelerated time frame.
What Is a Direct-Entry MSN Program?
A direct-entry MSN program is an intensive full-time program that gives you an academic foundation in nursing, practical training through clinical rotations and leadership skills through leadership specific coursework that qualifies you for the Clinical Nurse Leadership certification and the NCLEX-RN. It is designed for students who have already earned a bachelor's degree in a non-nursing field and want a fast track to becoming a registered nurse (RN). 
Your first year's work will concentrate on the foundational nursing coursework and introduce you to nursing interventions, prioritization of patient needs and direct patient care clinical rotations.
The second year will focus on nursing leadership, with courses on such topics as health care systems, population health and technology in health care. In addition, students will be prepared for the NCLEX-RN examination, which is needed for licensure.
Survey data from the American Association of Colleges of Nursing (AACN) indicate that despite the pandemic, enrollment for entry-level master's programs in nursing increased by 4.1% during the fall of 2020. 
Now that you have an overview on what a direct-entry MSN program is, here are a few of the benefits you can look forward to as you transform your career path. 
Benefit #1: Employers like to hire second-degree RNs.
Having a proven track record in both academics and a non-nursing career field actually makes you a more attractive candidate for admission to an MSN program and, ultimately, for professionals looking to hire RNs. The AACN reports that second-degree students are often more mature and are more focused on their academic success. Similarly, employers appreciate second-career RNs who "possess strong clinical skills and are quick studies on the job."
Benefit #2: Job shortages are expected in all nursing roles.
The need for RNs nationally has been a hot topic among those who track health care workforce stats. The U.S. Bureau of Labor Statistics predicts that there will be 175,900 new nursing positions available each year between now and 2030. Many of the vacancies will be created as thousands of nurses in the baby boomer generation retire. Master's-prepared RNs are entering a career with many hiring opportunities, especially in response to nurse staffing needs created by the pandemic. 
Benefit #3: MSN degree holders have many career options.
What can you do with a master's in nursing? A lot! The roles and opportunities for a master's-level nurse are varied. With some additional training and certification, you can pursue a specialized nursing role. Holding an MSN is a prerequisite for the following roles:
Clinical Nurse Specialists deliver care within a specialty or setting, with a specific population, disease or type of care (such as rehabilitation or mental health) 
Nurse Administrators facilitate and deliver care at the bedside and manage teams of nurses to deliver high quality care
Nursing Consultants provide medical and legal analysis for organizations, such as hospitals, insurance firms or pharmaceutical companies 
Nurse Informaticists manage communication among nurses and other staff to assure the best patient care, often with a focus on integrating data and disseminating knowledge
Public Health Nurses work to manage disease prevention and control with community leaders and policy experts; may manage clinics
Research Nurses work in a laboratory or other research settings managing data and analyzing patient data to advance patient care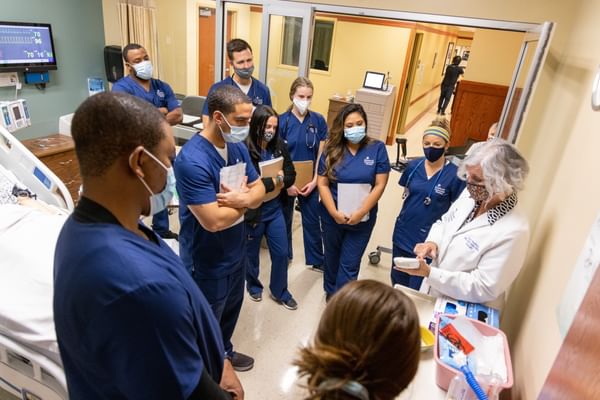 Benefit #4:The degree includes a leadership component and credential
The American Association of Colleges of Nursing (AACN) and other health care leaders collaborated to develop the Clinical Nurse Leader (CNL) designation. It was created as a way to acknowledge the need for enhanced oversight of patient care and to improve patient outcomes. The designation criteria established role requirements and a national certification exam for the credential.
The primary responsibilities of the CNL are:
Care coordination
Outcomes measurement
Transitions of care
Interprofessional communication & team leadership
Risk assessment
Implementation of best practices based on evidence
Quality improvement
The AACN has outlined some of the typical leadership activities of the CNL that an MSN can prepare you for:
The CNL has the primary responsibility to delegate and oversee care delivery by staff members
Responsible for providing coordination and communication among team members regarding a specific patient cohort
Assess client/patient and family/caregiver upon initial contact to anticipate risks, and design and implement plans of care 
Ensure the consistency of care using principles of "mass customization" 
Implement evidence-based practice to improve patient outcomes at the microsystem level
Identify the need for new policies and procedures, develop them and take the lead on their implementation
A student who is evaluating master's-level programs should look for one that readies its students for AACN's CNL certification exam. Success on the exam and earning the credential confirms a nurse's knowledge and skills in leadership, clinical competence, risk reduction and evidence-based practice, while increasing their desirability as a job candidate. 
For those students who are interested in a leadership role that focuses on quality and safety stewardship, the MSN allows you to gain new graduate RN experience and move into a leadership role faster than a BSN-prepared RN.
Benefit #5: You'll have a faster pathway to future graduate programs.
Once you have earned a master's in nursing, many additional opportunities may present themselves. Working at bedside or in a leadership role as an RN can be a great start. You may also find that you will want to pursue additional certification as you learn more about the wide range of nursing specializations.
With an MSN degree in hand, you will be positioned to continue your education to pursue additional nurse pathways, such as advanced practice nurse programs.
Nurse Practitioner (NP): An NP is an advanced practice registered nurse (APRN) who has received additional graduate level education that allows them to autonomously engage in the assessment, diagnosis and management of patients. Depending on the rules in the state in which they practice, an NP may be able to perform most clinical tasks without the supervision of a physician. Practice areas can be further specialized into such fields as: 

Family Nurse Practitioner (FNP) 
Psychiatric and Mental Health Nurse Practitioner (PMHNP)
Neonatal Nurse Practitioner (NNP)
Pediatric Nurse Practitioner (PNP) 
and several other fields including oncology, acute care, adult-gerontology care and more.

Certified Nurse Midwife (CNM): A Certified Nurse Midwife is an APRN who focuses on care for pregnant women through antepartum care, labor and delivery, and postpartum care, as well as care for newborns through the first month of life. 
Clinical Nurse Specialist (CNS): A CNS is an APRN who specializes in clinical care of patients in a particular population, and who often serve in leadership roles advising and educating nursing staff on delivery of evidence-based care and achieving quality outcomes.
Beyond these specialties, there are post-graduate programs for those seeking the highest levels of credentials in nursing practice. The Doctor of Nursing Practice (DNP) degree focuses on clinical care and delivery, and on quality improvement through translational research. DNPs often fill advanced leadership roles in areas such as nurse management, organizational leadership, or state and national health policy. Ph.D. in Nursing programs are often selected by those who want to engage in research to generate new knowledge or education, while also allowing them to continue clinical work if they choose.
Find the Right Direct-Entry Master's in Nursing Program
An accredited online Master's Entry in Nursing Practice (MENP) program, such as the one offered by Elmhurst University, welcomes students who have started on a different career path but now are committed to their goal of entering the profession of nursing.
Elmhurst University's academically strong, ethically driven online MENP is a rigorous, full-time program requiring a commitment of roughly 10 to 12 hours per day. Coursework, clinical rotations and a 10-day skills-focused residency will prepare nursing students with a thorough grounding in clinical care, plus incisive training in nurse leadership, all with the goal of improved patient outcomes.
Students will become fully immersed in the following program themes:
Clinical Nurse Leadership: Gain skills and knowledge that will allow you to evaluate concepts, theories and principles from a systems perspective. This prepares you for the NCLEX-RN exam and Clinical Nurse Leader certification to validate your comprehensive skills and knowledge.
Evidence-Based Nursing Practice: Build a scientific foundation for practice in an advanced nursing role to understand, identify and manage the disease process across the lifespan, using a systematic, patient-centered approach in all aspects of care.
Quality Improvement and Research Methods: Analyze policies, finances and systems within organizations to support professional nurses and patient populations, locally and regionally. Build competencies in research, health care systems, and information technology to foster change and improve outcomes.
Advocacy, Ethics and Accountability: Incorporate ethical principles and adhere to professional values in the execution of nursing practice with diverse populations and community systems in order to provide the utmost standard of care and be a voice for patients and the nursing profession.
The faculty and administration are dedicated to student success and have structured the MENP program to help students achieve their goals. Although courses are offered online, there are opportunities for interaction with instructors and fellow students both online and in person during the 10-day residency. Elmhurst's MENP program includes NCLEX-RN preparation, as well as support and assistance for securing clinical rotations in settings close to the student's location. 
Elmhurst's online MENP program is accredited by the Commission on Collegiate Nursing Education (CCNE).
If you are ready to learn more about the many benefits Elmhurst University's nursing programs can offer, read more about our MENP Program and schedule a call with one of our enrollment advisors.