ABSN vs. BSN: What Can You Expect from an Accelerated Nursing Program?
If you are considering changing careers to become a registered nurse (RN), you might be wondering about the structure and requirements of an accelerated nursing program, such as an Accelerated Bachelor of Science in Nursing (ABSN) or a direct entry Master of Science in Nursing (MSN). You might also be wondering what some of the key differences are between ABSN vs BSN programs.
Becoming a nurse represents a significant commitment of time, but for most, the rewards of pursuing a passion for helping others and giving back to the community make it worthwhile. If you are thinking about changing from a non-nursing career to nursing, it helps to have a roadmap outlining the steps you'll need to take and the environment you'll be entering.
People who have a bachelor's degree in a field other than nursing and are looking to switch careers have several educational options: 
You can enroll in a traditional four-year Bachelor of Science in Nursing (BSN) program. 
You can enter an Accelerated Bachelor of Science in Nursing (ABSN) program. This type of program, which is frequently offered online, focuses on nursing practice, theory and clinical education. It is "accelerated" because completion of this type of BSN program generally takes less than two years.
The third option is a Master's Entry in Nursing Practice (MENP) program, another program designed for those who already have a bachelor's degree. Graduates of this program earn a Master of Science in Nursing (MSN). This type of program can also be completed in under two years.
Read more to answer the question at the top of many students' minds - are accelerated nursing programs worth it?
How Accelerated Programs Have Grown
In the 1990s, nursing schools developed accelerated nursing programs to attract people who wanted to enter nursing with a bachelor's degree. Initially, there were about 30 such second-degree nursing programs in the United States. As of 2023, the American Association of Colleges of Nursing (AACN) counted 317 accelerated BSN programs in the U.S. and Guam. The AACN currently has 63 master's-level accelerated programs for entry into nursing on their membership list.
Student enrollment in these programs has grown steadily. An AACN survey in 2017 showed that there were 19,541 students enrolled in accelerated baccalaureate programs. That number jumped to 23,354 students in 2018. Master's-entry programs have seen similar increases: In 2017, there were 7,303 students enrolled and by 2018, the count had grown to 7,493 students.
Is an Online Accelerated Nursing Program Right for You?
When choosing an online ABSN or MENP, it's important to know what the program will require from you, if it suits your goals and if there are any potential ABSN scholarship opportunities you can apply for. Understanding how online programs work will help you see if your learning style and lifestyle are suited for this learning format. 
Can you work while in nursing school?
Most online accelerated BSN programs are academically very rigorous and require a commitment of 8–12 hours per day to go over lectures and study materials and 1-2 days per week of clinical rotation. 
When comparing traditional BSN vs accelerated programs, the compressed time frame of an ABSN program allows you to enter your nursing career faster. However, this means working, even part-time, is discouraged as the program requires your full attention. High-quality online programs have been specially designed to provide a supportive learning environment so you can enter the field in under two years.
How do you study in nursing school?
If you are organized and self-directed, you can review lectures and materials on a schedule that you set for yourself. There will be established weekly deadlines for assignments, so having good time management skills will be crucial.
David Schultz, a student from Elmhurst University's online ABSN program, describes his reasons for choosing an online program.
"It gave me the options to pick and choose how to break up my own day. It was nice to have the option of, 'Okay, I can work on this homework all morning, and then I can take a break, and then I can do some personal stuff to break my day up, and still have that school-life balance,' if you will. That was one of the biggest things for me."
Hear David Schultz' full student testimonial below:
Do you make friends while in nursing school?
While not as easy as meeting after a class you attend in person, you will have time to work with and get to know your fellow students through videoconferencing, online projects and study sessions. In fact, because student enrollment isn't limited by location, you'll be able to tap into a geographically wider network.
"My classmates were phenomenal. They were absolutely fantastic, intelligent, hard-working people that brought extremely variable experience to the table. And then when we came in for lab simulation, we felt like we knew each other. We really bonded as a group and we made some really close friendships."
- Molly Blackall, ABSN Graduate
If I have questions about the coursework, who can I reach out to?
Your strongest learning relationship will be with the faculty, many of whom are working nurses themselves. Outside of the lectures, online students can contact professors via email or videoconference. Because they understand that students are working remotely, professors are very attuned to the fact that online communication forms the main point of contact and therefore, they are very responsive. Dedicated student advisors can also help you navigate the university services and help keep you on track.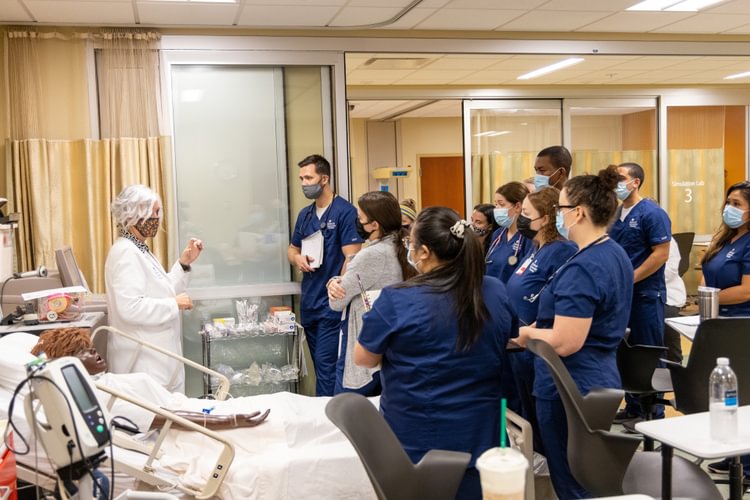 Your Path Through the Program
Once you are accepted into an online program, your work will fall into two broad categories: didactic coursework (lectures, homework, peer projects, etc.) and clinical competencies (skills needed for direct patient care). Overall, there are four major components to completing your education and becoming a registered nurse.
1. Mastering the curriculum
In courses that cover such varied topics as pathophysiology, nursing theory and population health, students preparing for a second career as an RN will expect to find the following themes addressed in their program:
Concepts and theories of nursing. Essential theories and knowledge of nursing explain the role of a nurse as a leader, ethical practitioner and professional. Using principles of evidence-based practice, you will learn how to apply frameworks for critical thinking and decision-making in caring for and addressing the health care needs of individual patients as well as populations.
Communities and vulnerable populations. Study the principles of population health to understand health factors as they relate to epidemiology, environment and social determinants of health.
Health care systems and leadership. You will learn about organizational systems and leadership, health care policies and advocacy as it relates to professional nursing practice. 
Direct patient care. You will develop clinical judgment and decision-making skills through laboratory experiences and supervised clinical experiences. Build competencies for the care of patients of all ages and diverse populations with acute or chronic illnesses.
For master's candidates, there is often additional coursework on clinical nurse leadership. Education on nursing concepts and theories from a systems perspective, plus leadership training in communication, management and social responsibility prepares you to take the Clinical Nurse Leader certification exam.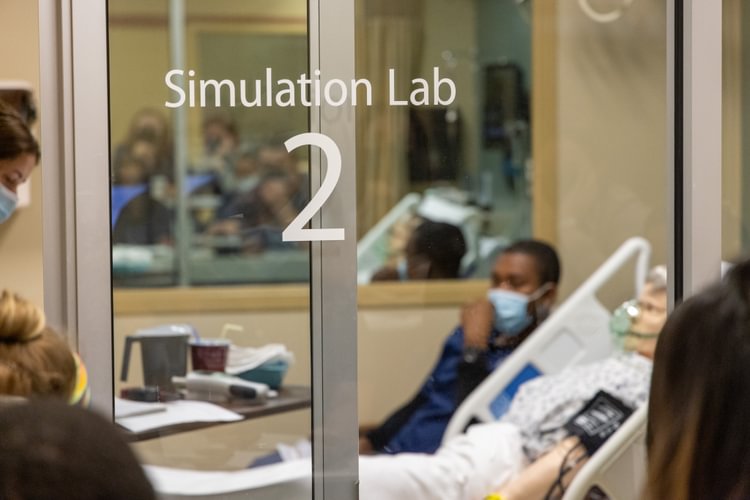 2. Practicing skills hands-on during the campus residency 
RNs play a critical role in health care delivery and need to understand patient-care skills, care prioritization, and the variety of settings in which patients receive care. Through your online coursework, you will learn the principles behind these skills but having an opportunity to learn in a hands-on environment will cement your knowledge.
Hands-on learning will take place under two different frameworks. First, you will engage in one or more on-campus residencies where you will participate in simulation labs. These allow you to master skills by working with medical mannequins and your classmates. 
You will learn basic skills, such as taking vital signs and blood draws, as well as increase your familiarity with typical hospital equipment. You will also get the opportunity to develop your skills in high-stakes simulations, allowing you to safely practice your core competencies in high-pressure scenarios.
In a simulation environment, you will get to witness the outcomes of your decision-making and receive valuable feedback to improve your critical thinking and patient care.
Elmhurst ABSN student, Elysa Katz, discusses her residency experience stating.
"Something that made Elmhurst really exciting to me was the residency program and the sim lab before going to clinicals. That hands-on experience prior to it being with a patient and getting to have a teacher, an instructor right there explaining every step of the way, really drew me towards Elmhurst. Because I thought that was going to be really helpful for me as someone who always did better in labs versus lecture classes. The hands-on experience is how I learn best, so I really valued that."
Hear Elysa Katz's full student testimonial below:
3. Completing clinical rotations
Clinical rotations are the second framework for mastering your clinical skills and learning how to work with other health care professionals.
Each rotation is a brief assignment to a clinical setting where you learn how to care for real patients. 
These assignments are called "rotations" because you will cycle through a variety of settings. The benefit of visiting multiple settings throughout the program of study is that you learn how to provide care to patient populations in several different circumstances, which gives you a broad range of clinical experiences.
You will work under the supervision of an experienced RN, who will give you patient assignments and monitor your performance. You will also be evaluated by a clinical faculty member—an experienced nursing professional who will evaluate feedback and give you guidance about your performance. The clinical faculty will also prepare performance reports to be included in your academic record.
4. Preparing for the NCLEX-RN exam
To be licensed as a registered nurse, BSN and prelicensure MSN graduates must pass the NCLEX-RN examination. During an accelerated nursing program, you will have courses and exam prep tools that will give you a chance to take practice exams and familiarize yourself with the types of questions that will be on the NCLEX-RN exam.
Once the paperwork is filed with your state board of nursing and you successfully pass the NCLEX exam, you will be informed when your license has been granted.
Career Opportunities for Registered Nurses
Besides being a great profession in itself, being a registered nurse puts you in a career field whose job opportunities are growing. Experts who evaluate the healthcare industry have been worried that there aren't enough nurses to fill vacancies left by retiring nurses and to meet the need to care for a growing number of older adult patients who have multiple health problems.
As a result, the U.S. Bureau of Labor Statistics (BLS) predicts that the number of nursing jobs will grow by 9% for the ten-year period between 2020 and 2030. That's an increase of more than 276,000 jobs.
Some students may be concerned that potential employers will not value a fast-track program as much as they would a degree from a traditional program. The AACN reports that broadly speaking, employers value graduates who have earned a second bachelor's through accelerated programs more highly because they see these RNs as highly motivated and mature. They value these nurses' prior work experiences, appreciating that they know how to work in organizations and are quick learners.

Financial Aid Options for ABSN Students
If you are interested in taking the next step in your career but have questions about how you will cover tuition costs, you are not alone. Elmhurst Univeristy is here to help connect you with a variety of resources to help ease the costs and direct you toward ABSN Scholarships.
There are a variety of types of aid that students can apply for based on financial need, including:
Federal student aid
Private scholarships and grants
Nursing Scholarships
Private loans
There are also a variety of external resources that can provide additional financial aid to students. For example, the Illinois Department of Public Health has a robust scholarship program intended to help residents of Illinois who have demonstrated financial need secure funding to approved educational institutions. 
Students may also wish to explore the ABSN Scholarship opportunities available through organizations such as the Nurse Corps or the Association of periOperative Registered Nurses, which provide financial relief to students who meet various qualifications.
More on Tuition and Financial Aid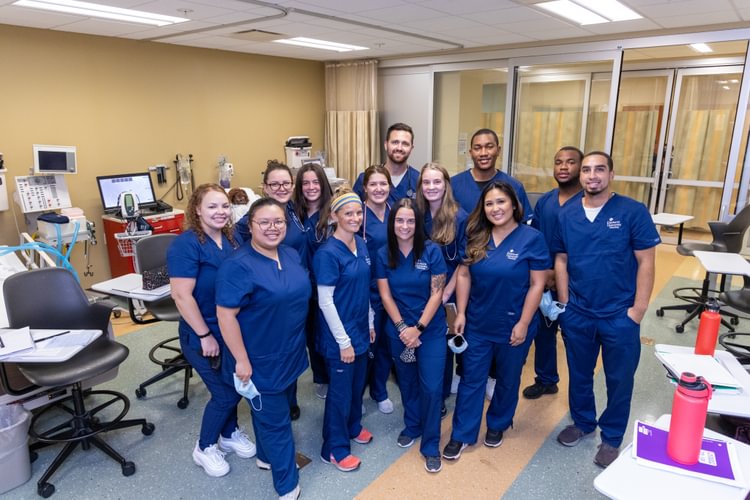 Accelerate Your Nursing Career with Elmhurst University's Online RN Programs
If you have a bachelor's degree in a non-nursing discipline and are ready to become a registered nurse, look at the program offerings from Elmhurst University. Our accelerated nursing programs are:
Academically strong and ethically driven
A fast-track way to enter professional nursing
Supportive of students with clinical placement services and NCLEX-RN test prep
Consider your options—would the online Accelerated Bachelor of Science in Nursing or the online Master's Entry in Nursing Practice be a better fit for your career plans? Through either program, you will be prepared for a successful nursing career that allows you to provide quality nursing care to individuals in your community.
Both programs are accredited by the Commission on Collegiate Nursing Education (CCNE), and Elmhurst University is regionally accredited by the Higher Learning Commission.
Elmhurst University is highly ranked among schools in its region by U.S. News & World Report:
#9 in Most Innovative Schools
#20 Best Colleges for Veterans (Regional Universities Midwest)
#20 Best Undergraduate Teaching (Regional Universities Midwest)
#13 Best Regional Universities Midwest (#1 in that category in Illinois)
#19 Best Value Schools (Regional Universities Midwest)
#8 Top Performers for Social Mobility (Social mobility is an important new measure that tracks how accessible college is to students with lower family incomes.)
Learn how you can take the next step toward a career in nursing