Exploring the CNA to RN Nursing Pathway
If you are a certified nursing assistant (CNA), it's likely that you've considered the idea of becoming a registered nurse (RN). Some CNAs have always planned to become RNs, while others make the decision after their interest is piqued on the job. No matter how you arrive at the decision to progress from a CNA to RN, there are many things to consider, such as how your professional prospects will evolve, what the average salary range is in your state or city center, and how you will get the education needed to become an RN. 
This post will highlight: 
the differences between CNAs and RNs on the job
the benefits of a career as an RN
the educational requirements of a CNA to RN transition 
CNA vs RN: What's the Difference?
While a CNA supports and assists nursing, it is predominantly focused on facilitating activities of daily living.  The role of the nurse involves critical thinking to assess, identify problems, plan care and evaluate outcomes.
Roles and Responsibilities
A CNA works alongside RNs and other medical professionals, providing direct patient care, such as:
Bathing, feeding, and grooming patients
Rotating and repositioning patients
Answering when patients call
Assisting the nurse with bedside interventions when needed 
Stocking supplies and preparing patient rooms
Some people who are studying nursing science may work as CNAs while in school to gain experience. Others decide to become CNAs before pursuing an RN career so that they can better determine if the field and environment are a good fit.
RNs are members of the medical team who provide direct patient care. They may have an associate or bachelor's degree and will have completed clinical training to gain the experience necessary to carry out additional responsibilities, such as:
Assessing patients
Performing diagnostic tests
Educating patients
Administering medication
Monitoring patients and recording information
Collaborating with the interdisciplinary team 
Advocating for patients and families 
Job Outlook
According to the Bureau of Labor Statistics (BLS), the job market for CNAs is expected to grow 8% from 2020 to 2030, which is about as fast as the average growth rate for all occupations. The job outlook for RNs is a bit better, with growth expected at 9% over the same time period.
The health care industry as a whole provides good job security and is anticipated to be a high-demand sector for years to come as the aging baby boomer generation requires more care for conditions that emerge in late adulthood.
Why Become an RN
Many CNAs decide to pursue registered nursing because the experience they gain on the job illuminates the professional possibilities and rewards of a career as an RN. Because they already know what the RN role entails from observing and collaborating with nurses on the job, they feel confident in determining that the job is right for them. 
One Elmhurst University online ABSN student, Elysa Katz, described her decision this way:
"While I was at undergrad, I started working as a CNA at the university hospital where I got to work very closely with a lot of the nurses and see what they do day in and day out. That really fostered my love and appreciation and interest in the field of nursing."
Hear her full statement in the video below:
Higher Salary
Advancing from CNA to RN leads to a substantial increase in pay. According to the BLS, the median annual wage for nursing assistants was $30,310 in May 2021. For RNs, the median annual wage was $77,600. This amounts to more than 250% higher wages for RNs.
Greater Demand for Nurses
As noted above, the demand for RNs is set to outpace CNAs from 2020 to 2030. There are expected to be about 2,000 more nursing jobs each year over the decade than CNA jobs.  
Increased Responsibility
A primary reason CNAs cite for wanting to become an RN is the increased responsibility of the role. Many people who pursue registered nursing feel called to the profession. They are passionate about helping and caring for others and enjoy that the RN position allows them to have a greater influence on patient outcomes. 
Establish a Foundation for Professional Advancement
A BSN is a good professional foundation that opens doors to a wide variety of career paths and opportunities for advancement. RNs who have a BSN can go on to become nurse practitioners or help educate the next generation of nurses in the academic realm by seeking graduate-level nursing degrees. They can pursue post-baccalaureate degrees, such as a master of science in nursing (MSN) or doctor of nursing practice (DNP). These credentials are often necessary to pursue nursing leadership positions and greater autonomy in nursing practice.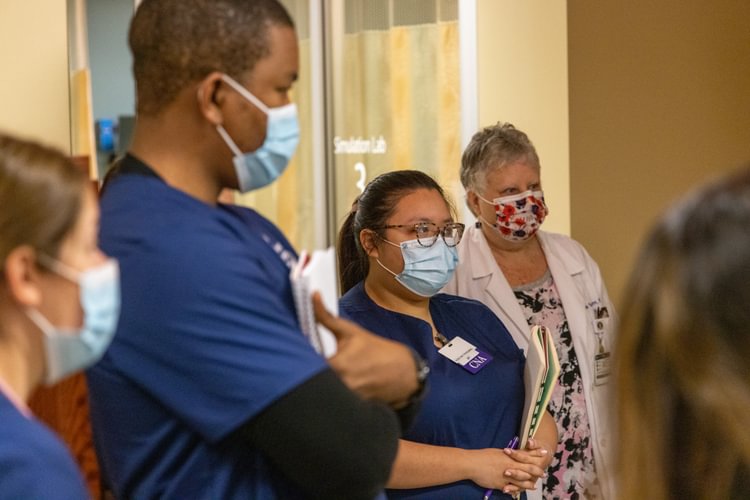 Choosing a Nursing Program
Progressing from CNA to RN begins with education and choosing a registered nursing program. There are many options for aspiring RNs, both in-person and online nursing programs, with programs of varying lengths.
The Benefits of a BSN Program Over an ADN Program 
As noted above, you can become an RN with an associate's degree in nursing (ADN), a bachelor of science in nursing (BSN) degree, or a master's entry in nursing program (MENP). Some accelerated CNA to RN programs allow you to earn an ADN in as little as a year, and some accelerated BSN programs can be completed in less than two years.
The primary differences between ADN and BSN programs are the length of time they take to complete, the scope of their curriculum, and the cost. ADN programs are shorter (usually two years) and can be more affordable than traditional 4-year BSN programs. But unlike BSN programs, they do not include certain aspects of professional nursing including leadership, research, and community health. In addition, many hospitals give preference to hiring RNs who hold a BSN degree. Organizations like the American Nurses Association recommend ADN holders eventually earn a bachelor's degree through an RN-to-BSN program.
Although both ADN and BSN degrees qualify a person to become an RN, they do not guarantee equal professional outcomes. ADN-prepared nurses earn $16,000 less per year than BSN-prepared nurses on average. 
Online Degree Options
For some, nursing may be a second career, and pursuing a nursing degree must be balanced with family obligations and other commitments. Online BSN programs are a great option for such students, as they allow students to earn their degree on a schedule that provides a little more daily flexibility, doesn't require moving or relocating, and is affordable and convenient.
Accelerated BSN programs provide an ideal route to registered nursing for those who already have a bachelor's degree in another field (a prerequisite for the program). Because an accelerated bachelor of science in nursing program builds on the education of your first bachelor's degree, aspiring RNs can earn a BSN in a little over a year. 
An MENP program provides a pathway to nursing practice for people who already hold a bachelor's degree in another field, making it a good option for people who want a career change. An MENP prepares aspiring nurses for leadership roles and provides a bridge to advanced nursing roles by setting the degree holder up for post-graduate certificates and degrees.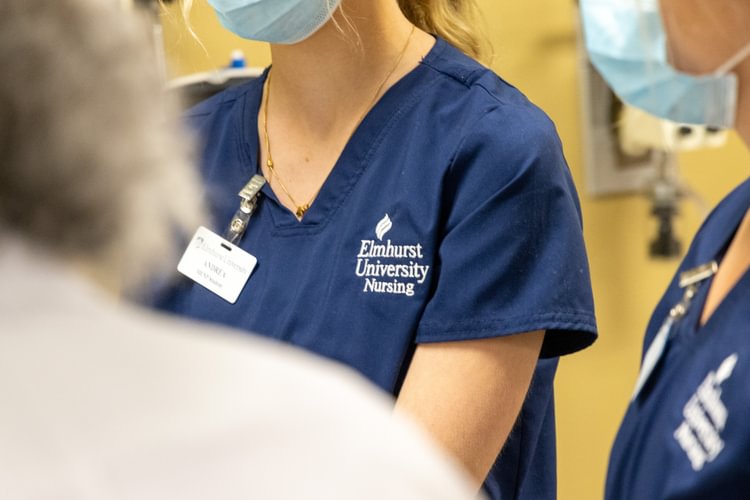 Elmhurst University's ABSN and MENP Programs
Located just outside Chicago, Elmhurst University has a 150-year history of academic excellence. Its nursing programs are accredited by the Commission on Collegiate Nursing Education (CCNE) and ranked among the best in the Midwest by U.S. News & World Report.
Elmhurst offers an online ABSN program as well as an MENP program. Both programs offer second-career nurses a high-quality education that will prepare them for entry into the RN workforce in less than two years. 
Elmhurst's courses are mostly asynchronous, allowing students the flexibility to learn on their schedule. The 16-month ABSN program includes two immersive residencies and is supported by dedicated advisors. The MENP program is just four months longer than the ABSN, has one immersive residency, and allows students to earn a master's degree. Both programs offer placement assistance for clinicals so that students can complete this important training in their local area. 
If you believe a second career in nursing is right for you, visit the Elmhurst University accelerated nursing program page, and begin your journey by requesting a comprehensive digital program guide.